Mounted to the windshield of my car is an I-Pass toll transponder, which is Illinois's version of the E-ZPass toll transponder used to collect tolls throughout much of the eastern half of the country. I find it both fascinating and creepy that using a toll transponder creates an electronic record of your whereabouts: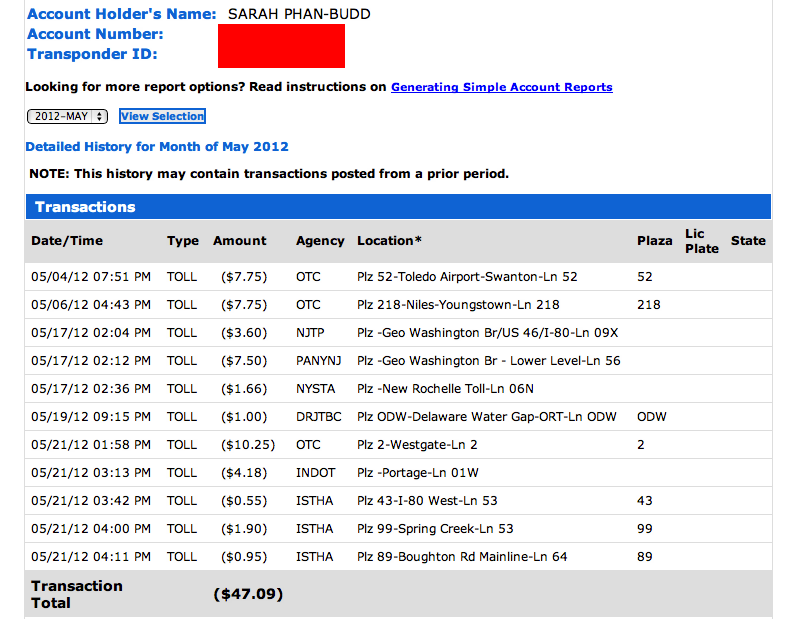 Some observations:
Both the transponder in my car and the transponder in my wife's car are in her name. (This report shows only tolls incurred by the transponder in my car.)
It costs more to cross the George Washington Bridge ($7.50) than it does to drive the entire 156-mile length of the Indiana Toll Road ($4.18). (Although, to be fair, the trip across the George Washington Bridge is much nicer than the trip across northern Indiana.)
In contrast to the George Washington Bridge, the Delaware Water Gap Toll Bridge is a bargain at $1.
Both the Indiana Toll Road and Ohio Turnpike use a ticket system, where you take a ticket when you enter the toll road, and then pay tolls when you leave the toll road, based on how far you've travelled. (Since I have the I-Pass, I don't need to take a ticket—it's handled electronically.) That's why you see only one tool recorded for each trip.
 On the Illinois Tollway, by contrast, you simply pay a toll every so many miles along the highway (as well as at certain on- and off-ramps). The last two tolls, for example, represent my cost for using I-355.